Home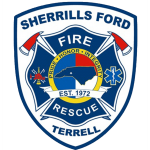 MISSION & VALUES STATEMENT
"The mission of Sherrills Ford – Terrell Fire & Rescue, Inc. is to preserve life and property through public education and prompt, effective emergency response."
Values Statement
Pride: Pride is the understanding of the fire service and having respect for it. There have been thousands of men and women wear the uniform before you, some who have paid the ultimate sacrifice. It may take years before you are accepted into the fire service by other firefighters. These other firefighters are making sure that you understand and believe in the service before they welcome you. The day you are accepted, you will become part of a brotherhood that is unmatched by any other business or company known to man. The day that happens, you will truly understand pride.
Honor: Honor comes from knowing that the service you provide to your community is unmatched. Every time you put on the uniform, turn-out gear, or step foot on the rig, you may never come home. Again, there are thousands of firefighters that stepped on the rig and paid the ultimate sacrifice for their fellow man. When you even mention the words fire service, you should speak highly and loudly, because you are honoring the ones before you. When you place the fire department uniform on, take honor in knowing you are now representing thousands of firefighters across this nation, especially those who took their final ride without returning to quarters.
Integrity: Integrity is the understanding that the fire service is a band of brothers/sisters who are morally and ethically true to themselves and others. The fire service does not allow just anyone to join the brotherhood, and there is a natural weeding process for those who do not have integrity. The fire service expects its firefighters to live by the core values. Your integrity is best judged by how you act when no one is looking.